How to Identify Your Intel® Graphics in Windows® 10 and Windows 11*
Use the instructions in the methods below to identify the Intel graphics product in your computer before installing a graphics driver.
If you need to identify your Intel graphics driver version, see What's My Intel® Graphics Driver Version?

Method 1: Manual Identification
Open Device Manager by simultaneously pressing the Windows and X keys on your keyboard. Select Device Manager to open it.
Click Yes when prompted for permission from User Account Control.
Click Display adapters to expand it.
Note the Intel graphics entry listed.
Method 2: Use Intel® Driver & Support Assistant to Automatically Detect your Graphics Controller
Download the Intel® Driver & Support Assistant. For more information, see the Intel® Driver & Support Assistant FAQ.
Run the Intel® Driver & Support Assistant.
Under Devices and Drivers, expand the Intel Graphics entry.
Note the Intel Graphics entry presented.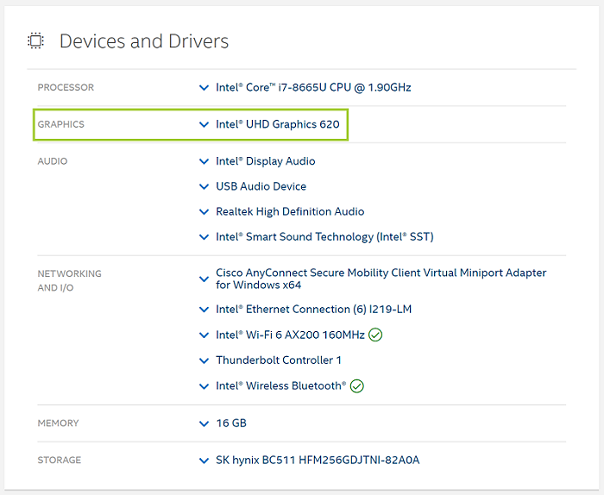 Note

If you see the adapter listed as Microsoft Basic Display Adapter or Standard VGA adapter, then Windows is working with pre-loaded generic and basic video drivers. Check with your computer manufacturer to determine the graphics controller your computer uses so the proper driver can be installed.
If you see the adapter listed only as Intel® HD Graphics without any numerical identifier, or if you cannot identify your adapter using either of the methods detailed here, follow these steps:
Alternative:
Once you have identified your Intel graphics product, see how to install the latest drivers on Windows® 10 and 11*.