How to Identify My Intel® Xeon® Processor Markings for Warranty Requests
Note

2D matrix (or 2DID, or 2D barcode) is on the topside of the processor, that is, marking on the IHS (integrated heat spread) of the processor.
2nd copy of the 2DID is added on the bottom-side starting with the 4th Gen Xeon (Sapphire Rapids) processors for server and workstation including boxed processor SKUs.
Processor manual covers the details.
The following information helps you identify server processor markings. Processor markings let customer support know if you are eligible for a warranty exchange.
| | |
| --- | --- |
| Note | Intel® Xeon® Processors are dictated by the manufacturer. |
Where do I find the processor markings?
All Intel® Server Processors have markings inscribed on the top of the processor package. The most recent Intel® Server Processor packages and markings are described here.
The serial number is required for warranty processing. The serial number of a processor is typically a combination of the finished process order (FPO) number and the assembly test process order (ATPO) number. If the ATPO Number is not present, provide the FPO number.
If you have the FPO number and ATPO numbers in hand, check your warranty coverage online at the Warranty Center.
If you are not sure about the processor package or socket for your processor, collect the processor markings and Contact Support.

LGA 3647—Intel® Xeon® Processor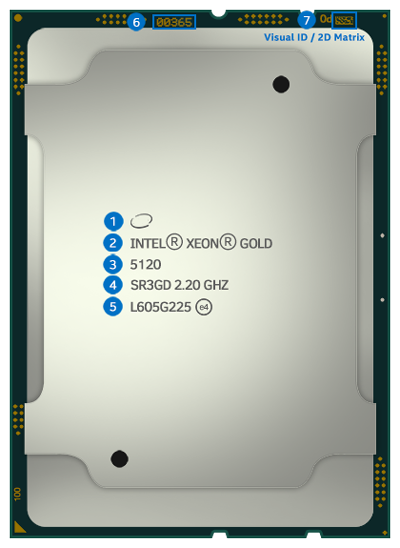 | | |
| --- | --- |
| Line 1 | Copyright Marks |
| Line 2 | Processor Family |
| Line 3 | Processor Number |
| Line 4 | sSpec # / CPU Speed |
| Line 5 | Finished Process Order (FPO) |
| Line 6 | Partial Serial Number |
| Line 7 | Assembly Test Process Order (ATPO) Serial Number |
Serial Number = Line 5 (for example, L605G225)
sSpec = Line 4 (for example, SR3GD)
| | |
| --- | --- |
| Note | Scanner for 2D Matrix is needed to read the Assembly Test Process Order (ATPO) Serial Number on Line 6. |

LGA 1151—Intel® Xeon® Processor
| | |
| --- | --- |
| Line 1 | Processor Family |
| Line 2 | Processor Number |
| Line 3 | sSpec # / CPU Speed |
| Line 4 | Finished Process Order (FPO) |
| Line 5 | Assembly Test Process Order (ATPO) Serial Number |
Serial Number = Line 4 (for example, L838C218)
sSpec = Line 3 (for example, SC3BP)
| | |
| --- | --- |
| Note | Scanner for 2D Matrix is needed to read the Assembly Test Process Order (ATPO) Serial Number on Line 5. |
LGA 1150—Intel® Xeon® Processor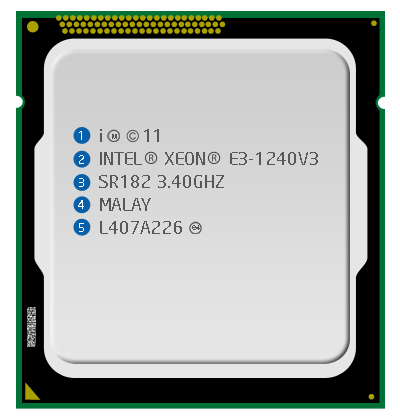 Line 1
Copyright Marks
Line 2

Trademark and Branding + Processor Family (for example, Xeon) +
Processor Number (for example, E3-1240V3)

Line 3
sSpec # + CPU Speed
Line 4
Country of Manufacture
Line 5
Finished Process Order (FPO)
Serial Number = Line 5 (for example, L407A226)
sSpec= Line 3 (for example, SR182)

LGA 1356—Intel® Xeon® Processor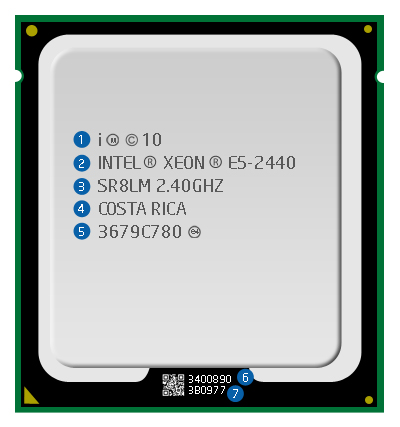 Line 1
Copyright Marks
Line 2

Trademark and Branding + Processor Family (for example, Xeon) +
Processor Number (for example, E5-2440)

Line 3
sSpec # + CPU Speed
Line 4
Country of Manufacture
Line 5
Finished Process Order (FPO)
Line 6
Assembly Test Process Order (ATPO)
Line 7
Partial Serial Number
Serial Number = Line 7 (for example, 3B0977)
sSpec = Line 3 (for example, SR8LM)

LGA 2011—Intel® Xeon® Processor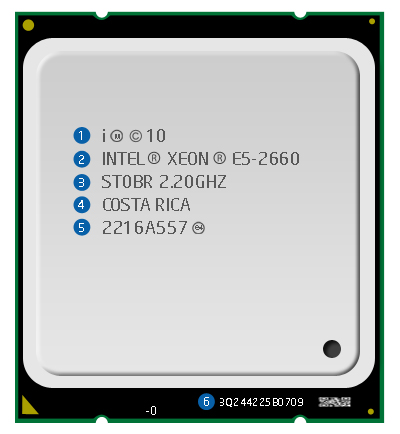 Line 1
Copyright Marks
Line 2

Trademark and Branding + Processor Family (for example, Xeon) +
Processor Number (for example, E5-2660)

Line 3
sSpec # + CPU Speed
Line 4
Country of Manufacture
Line 5
Finished Process Order (FPO)
Line 6
Lot Number + Serial Number
Serial Number = Line 6 (for example, 3Q244225B0709)
sSpec = Line 3 (for example, ST0BR)
LGA 1366—Intel® Xeon® Processor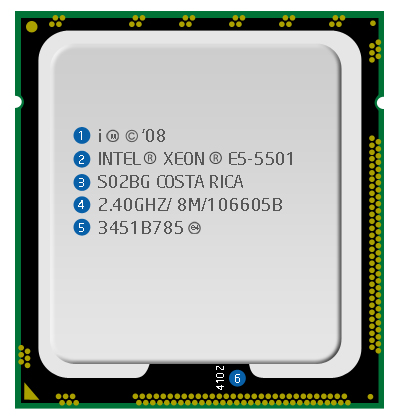 Line 1
Copyright Marks
Line 2

Trademark and Branding + Processor Family (for example, Xeon) +
Processor Number (for example, E5-5501)

Line 3
sSpec # and Manufacturing Country
Line 4
CPU speed/L2 cache size/Bus speed
Line 5
Finished Process Order (FPO)
Line 6
Serial Number
Serial Number = Line 6 (for example, 4102)
sSpec = Line 3 (for example, S02BG)

LGA 1155—Intel® Xeon® Processor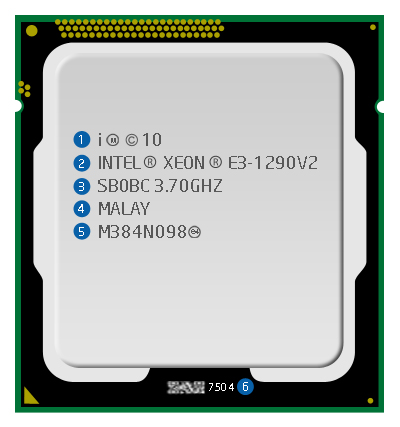 Line 1
Copyright Marks
Line 2

Trademark and Branding + Processor Family (for example, Xeon) +
Processor Number (for example, E3-1290V2)

Line 3
sSpec # + CPU Speed
Line 4
Country of Manufacture
Line 5
Finished Process Order (FPO)
Line 6
Assembly Test Process Order (ATPO)
Serial Number = Line 5 + Line 6 (for example, M384N098- 7504)
sSpec= Line 3 (for example, SB0BC)

LGA 1156—Intel® Xeon® Processor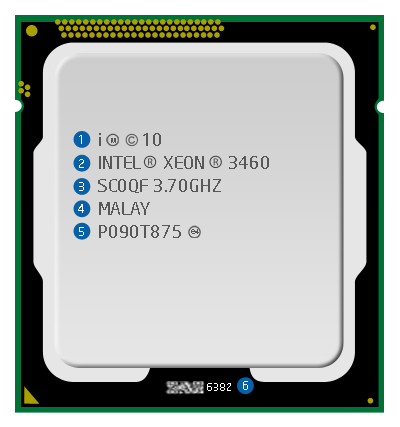 Line 1
Copyright Marks
Line 2

Trademark and Branding + Processor Family (for example, Xeon) +
Processor Number (for example, 3460)

Line 3
sSpec # + CPU Speed
Line 4
Country of Manufacture
Line 5
Finished Process Order (FPO)
Line 6
Assembly Test Process Order (ATPO)
Serial Number = Line 5 + Line 6 (for example, P090T875-6382)
sSpec = Line 3 (for example, SC0QF)

LGA 775—Intel® Xeon® Processor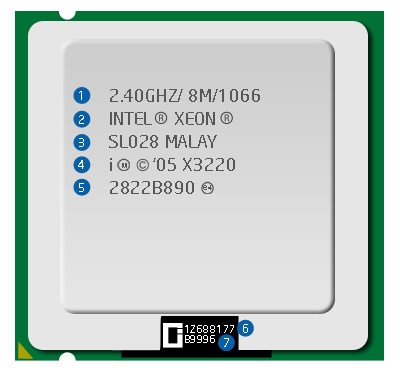 | | |
| --- | --- |
| Line 1 | CPU speed/L2 cache size/Bus speed |
| Line 2 | Processor Family (for example, Xeon) |
| Line 3 | sSpec # and Manufacturing Country |
| Line 4 | Processor number (for example, X3220) |
| Line 5 | Finished Process Order (FPO) |
| Line 6 | Assembly Test Process Order (ATPO) |
| Line 7 | Partial Serial Number |
Serial Number = Line 5 + Line 6 + Line 7 (for example, 2822B890-1Z688177B9996)
sSpec = Line 3 (for example, SL028)

LGA 771—Intel® Xeon® Processor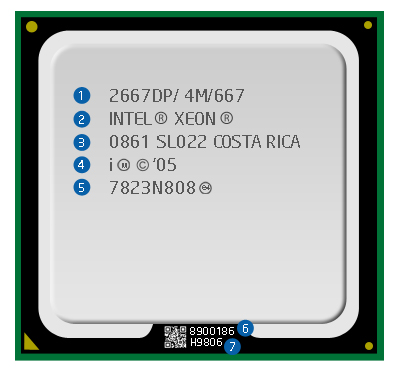 | | |
| --- | --- |
| Line 1 | CPU speed/L2 cache size/Bus speed |
| Line 2 | Processor Family (for example, Xeon) |
| Line 3 | sSpec # and Manufacturing Country |
| Line 4 | Copyright Marks + Platform Compatibility Guide |
| Line 5 | Finished Process Order (FPO) |
| Line 6 | Assembly Test Process Order (ATPO) |
| Line 7 | Partial Serial Number |
Serial Number = Line 5 + Line 6 + Line 7 (for example, 7823N808-8900186H9806)
sSpec = Line 3 (for example, SL022)